Leissl and I competed in our first agility trial on October 10 and 11.  The first thing we got done when we arrived is measuring.  She really enjoyed that!  Not.  But she will not have to go through that again because she measured exactly 24 inches, and won't need a second measurement.
Our first run was Nov Standard Pref, and she did very well. So did I. But by the time we got to JWW, which immediately followed Standard, Leissl had entered the Twilight Zone, but did come out of it occasionally to join me in the run.  I babied her through the weave poles, and after that, we had a double bar jump  so I yelled, "Big jump! Big jump!"
She took that big jump beautifully bounced once and took the next jump in front of her, which was an off course. I found out later that that means you NQ even in Novice. Boo hoo. Otherwise, we finished the course nicely.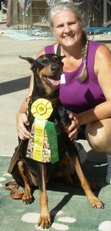 So Saturday we got a lovely yellow ribbon and one Q in Standard Pref.
Sunday was different. I set Leissl up for the first jump in Standard, and stood next to the second jump. Leissl was watching the butterflies in her mind's eye when I said, "Leissl, over hup!" She looked at me, stood up, and wiggled her way around the jump over to me.
"Jiminey Cricket!" That was a first. What the heck do you do when a dog does something like that on her first obstacle? Well, I took her around and started to run with her. And what an exhausting run it was. She clearly was not with me, and the word I used most was "Leissl!" in that whole run. It was a chore trying to connect with my dog, so we could be a team. It did not happen completely. She stopped on the teeter and had this look of terror in her eyes as if she forgot where she was. She managed, then, to jump off the teeter right before the yellow. That elicited a few sounds of pity from the crowd. Then she didn't want to take the shoot, and I'm not sure if she ever did. She slid right off the pause table, which was another first for her. The whole course and what transpired on it has grown foggy to me now, which is probably a defense mechanism to prevent agility handlers from going crazy, so I'll gladly live with it or blog earlier next time. I think we owed points to the AKC  at the end of it all.
After our run, we walked by a table and someone said, "She wasn't paying attention to you." That was stating the obvious, I thought, but then it rang a doorbell deep inside my trainer's brain. I opened the door, and there was the answer.
Actually and coincidentally*, I'd read part of an article in Clean Run before I left that morning for the trial: Improving Your Warm-up Routine by Nancy Gyes. The part I read recommended doing some obedience work outside the ring to reconnect with your dog. So I did. Initially, I felt a little out of place heeling her around in squares, but I worked through that feeling and kept on doing my thing. Leissl wasn't even paying attention to me at first. I had no treats with me or any toys. It was just us, so I had to work hard to get her attention. Luckily, she responds to exuberant praise, and that got her attention, and I added in nose touching to vary the routine. I worked with her till she was with me and could hear me talking to her again. Sometimes, I think she is an autistic dog. Leissl has her other world and she visits it often.  Even at home, she gets so involved with lizard hunts and smells on the ground, she is often one of the last ones to come running when I call the pack inside.
Before I finish with what happened in the ring, I'd like to make a point about our judge, Keith Harold.  He's a really good and motivating judge. He kept us moving along, and that is a good thing when you're showing in the kind of hot weather we were having. On Sunday, he gave us Novice folks a couple of really nice motivational speeches. If I'd known he was going to do that, I'd have recorded them.
In Standard he told us that we were athletes, and not to let anyone say otherwise. He asked us how many professional football coaches train their people then run the game with them. None. The sport of agility takes all components of a person to compete. It's a sport of training knowledge, mental strategy and physical execution, and our dogs are the athletes who we must condition physically, train, and keep their attitudes up. So if anyone says, "Oh there she goes again, outside to play with her dog," you can chuckle to yourself because you know how much more it is than that.
When I got to the JWW's ring, I thought, "Judge Harold surely isn't going to give another talk. How could he top that one he gave in Standard?" Well, he did. He told us of a man in Denver who had had a stroke an was nothing but a shell who sat in a chair drooling. However, bit by bit, he recovered, and that man got into agility.
Agility is the mind-body sport. Your body and mind work together as you walk the course. You plan the course out in your head and visualize the dog and you in tandem in the run as you walk it. You visualize your body's movements and the strategies to take. The agility handler is using those visualization skills grouping the course together in her mind. All of these things heal, strengthen, or create new synapse connections in the brain. And this mind-body connection was what accelerated that drooling stroke victim's healing. The judge said that man came back 100% from where he had landed after his stroke.  (I'd add agility connects one to one's spirit as well. Doing agility definitely lifts my spirit up.)
Getting back to the JWW ring and Leissl and I, in the final JWW course, I kept taking a wrong turn as I walked the course. Everytime! It was the last of three jumps, I took 12 and went to 8 instead of 13.  Instead of turning left to take those jumps, I went straight. I corrected myself each time, but for some reason, I couldn't take the left turn anytime I walked that course, and each time, I made the mistake and corrected myself.
So at my side was Leissl, now attentive after our fabulous warm-up work, and ready to follow her handler, me. All of that work panned out to good things in the ring. I have trouble with front crosses and all sorts of footwork yet, but I forced myself to do a front cross.  Between jumps 7 and 8 I sang a song.  "I'm doing a front cross," and I did that front cross.   It was a wonderfully clumsy moment for me.  Then, somehow, Leissl and I ended up in the right positions to move onward. That was something.
Leissl stayed with me for the entire course, and when we got to the spot where I had practiced going awry, 12 to 13, I did what I practiced, and led my partner right over the wrong jump. I had the same "Uh oh!" moment I had everytime I made that mistake on the walk-through, but this time, I had a crowd of people join me with an "Ooooo." Then just as I'd practiced in the walk-through, I brought Leissl over the last three jumps and she did them perfectly. That particular JWW class was beautifully full of lessons.
Now it's onward and upward to the next leg for Leissl and me.
—–
*  "Coincidences are God's way of remaining anonymous."
– – – – – – – – – –
Mulder: "If coincidences are just coincidences, why do they feel so contrived?"
Scully: "That's one to pose to the psychic philosopher."

Tags: AKC agility, Doberman