Less than an hour ago, around 5 am on July 16, 2012, I found my sweet Ollie Vern in his bed. His life had left him. Born on December 1, 2000.
My focus and energy during the last 50 minutes was dealing with moving what Ollie left behind, his body. This was a difficult task as his legs had stiffened, and he was a heavy boy, somewhere between 80 and 90 pounds. I don't know how I did it, except with a towel to drape over his head and his sleeping blanket underneath him, but I managed to pull in through the house, getting around a couple of tight corners, and out through the front door onto the stoop.
Being so early in the morning, the neighborhood was still dark. I wanted to remove Ollie's body without the audience of passers by, so I had pulled my truck up to the door stoop, after first backing into the corner of the fence in the front yard. I do have a walking ramp for my dogs, due to their age, and their need for help getting into the truck. I was dearly thankful for that ramp this morning. Without it, I couldn't have lifted Ollie's body into the truck.
I put a white flannel sheet in the back and stepped inside to pull his body onto it. There I covered him completely, opened the side windows and closed the back, and reparked the truck in the carport. I will call the crematory when they open and finish the ritual I've gone through too many times before.
The ritual, this time, was slightly different. Ollie was the first dog in my long life to have let himself go without the necessity of a veterinarian's intervention. After relocating the body, I suddenly faced the fact that my Ollie was gone.  When I stepped into the house, that's when I was faced with what happened and streams of tears came flowing out.
I can say before that moment, this was a less emotional ritual than every pet in my past. From making the phone call to the vet to leaving the office with the pet's body, that process is wraught with tears and pain. Finding Ollie's body was indeed traumatic, but his passing in his bed, peacefully and at an age that perhaps I would expect, contributed no extra stress to the process of death. This is where I can go directly to grieving. Ollie was a special mann. He caused me no trouble, and offered me years of laughter, companionship, and love.  I hope I did the same for him.
As in life and in death, Ollie has always been very little work. The fact that he laid down and peacefully left was just how Oliver would have it. He was the kind of fellow who would say, "Don't worry about me. I'm fine."
There were only two times, really, when he was a challenge. When I was out in the yard, he was like a big baby. Ten years of being a big baby, he would cry loudly in the house. Loudly enough that I could hear him far into the back yard.  This fine example was from last week while I was training Luigi, you can hear him at the end of the clip when I start talking. Ollie could have been an opera singer.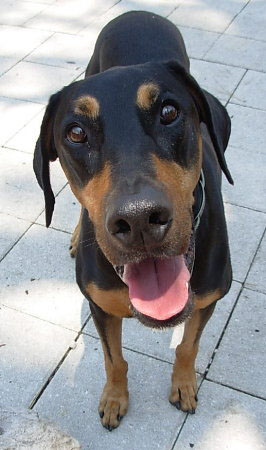 So many times I would bring Ollie into the yard with me when I did yard work. He was the only of my dogs who would lie down in a spot, either a hole he dug or a shady spot, and relax. I could open the gates of the no-dog area and work on the plants there, and he wouldn't bother to enter. He was my yard-work buddy. Yard work without him will be very lonely.
His second challenge was playing with toys. Once Ollie got a toy, he would keep it, especially if I were playing fetch with Luigi.
Luigi and Ollie were ball playing buddies from the get go. Luigi plays fetch and Ollie played keep away. I suspect Ollie had some Lab in him, though I will always insist he was 100% Dobermann with a little something extra. The reason for the Lab is I've seen other photos of Labs stuffing their mouths with toys.
Ollie, too, was a toy stuffer.
Ollie had been raised in a veterinarian's office, boarded for the first year of his life. The people who owned him were Canadians and boarded him and a GSD there while in Canada.  They then decided they didn't want him or the GSD after paying boarding fees for both dogs, so the vet called rescue. When I first brought Ollie home, he would turn in circles, as in spinning, and bump into furniture and the walls. Spinning was what he could do in his kennel to occupy his time, and to the last day, when he saw a squirrel, Ollie would spin. But he also expanded his spin to running in bigger circles in the back yard.  Small spin first, then run in the circle. That is another of Oliver's job duties that will not go unforgotten. He was the head squirrel alerter. When squirrels ran across the telephone wires, Ollie was the one to alert with his deep, resonating Oliver bark.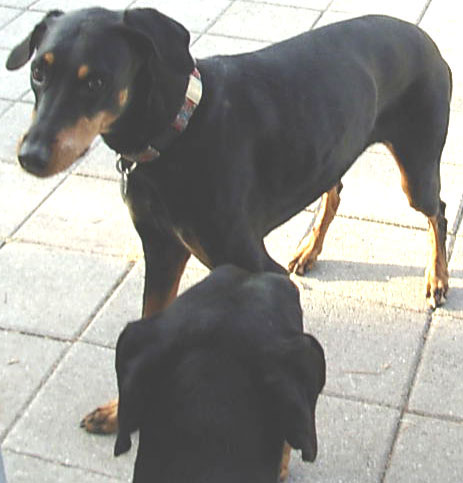 Ollie was my second Dobermann. My first, Baby, loved Ollie.  Baby was particular about who she played with, and Ollie was one of the few of her playmates. When I wanted to get Baby a playmate, I went to rescue, and several months into the search, in 2001 I adopted Oliver.  
It was on December 6, exactly. My rescue friends and I joke that as I drove up to the house, they ran out with Ollie, shoved him in the front seat and shooed me on. The joke was solely because Ollie, as previously mentioned, his Doberness may have had something extra in it. Whatever Ollie was made of, he has been a very special part of my life, and I am sure Baby was waiting to meet her good friend early this morning when he passed onto the Rainbow Bridge.
Oliver you were my very special buddy.  Until we meet again, my love, I will honor your memory.