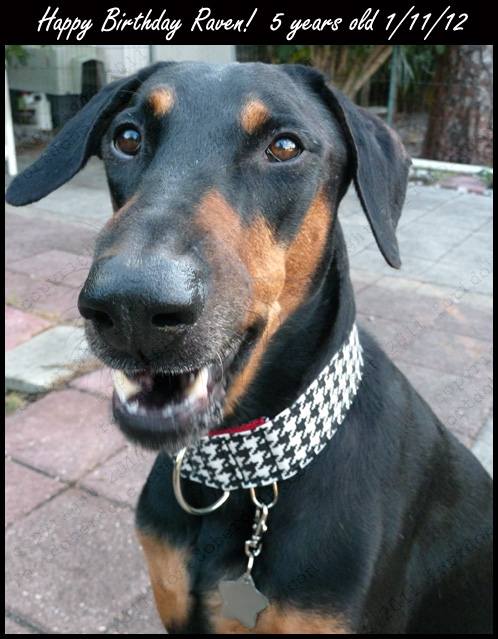 Raven had her 5th birthday this week on the 11th.  Happy birthday Little Big Pants!
Today was a good day for learning about tug and toys.  I watched a very good video on teaching a dog to tug earlier today and picked up a lot of good tips on that.  I have found out why I've stumbled along with one of my dogs and am ready to pick up the pieces and move ahead with fixing that tug deficit.
Then tonight I watched a very good video on motivation and toys, and learned how to use a food toy to train play properly.  There are so many toys out there, and honestly, I have never seen instructions on one of the food tug toys I've purchased.  You'd think maybe they'd add that important part of the toy – instructions on how to use it!
Teaching a dog to play is not as easy as one would think.  It's much like having cake for dessert.  You have to gather the ingredients, mix them together, and bake it at the right temp for the right amount of time, before the cake's complete.  Recipes are not only for baking.  🙂  They're for dog training, too.
Raven got a nice new red toy for her birthday.  We used it for her weaving practice then found out it was a bit too slippery for that, so we'll use it for something else.  Slobber changes the texture of some toys!
Here's my girl weaving.  I'm proud of her progress and I'm looking forward to the year we have ahead of us.