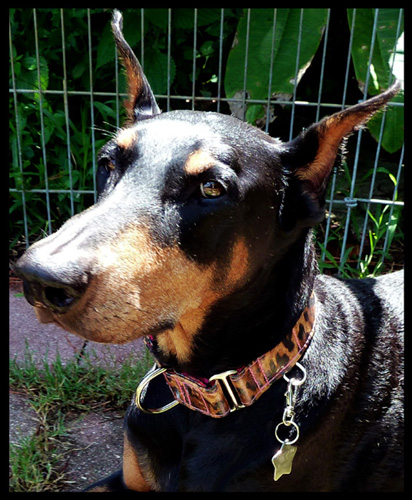 Here is Leissl in a leopard print oil cloth martingale with hot pink lining.  It is another gorgeous creation from Lisa at Collar Mania.  The adorable stainless steel star tag is from the Pasadena Humane Society.
I took this photo of Leissl on a way too hot Sunday afternoon.  Lately, the best place to enjoy summer is indoors where the heat and humidity are not.  Though Leissl is ready for anything anytime.  She has a favorite lizard hunting spot, but frankly, I don't remember her ever catching one.  Yet that doesn't impede her enthusiasm for her sport.
We could take lessons from such a beautiful frame of mind.  Leissl gets out there and does something she loves for the fun of it and doesn't come in at the end of the day pouting because she didn't catch a lizard.  Instead, she looks forward to the next time the door opens so she can have a chance at the game again.  I'd say that's a healthy outlook on life.