The Miami Obedience Club Agility Trial was a blast!  Raven and I are starting to click.  Just as I suspected, she had it in her to get her 3rd Nov Pref Std leg, and on Friday, we Q'd and Raven has a NAP title now.  All our runs were recorded, and to put or keep us in the Halloween spirit, I used festive music on the videos.  Before that, though, I'd like to mention that a handler by the name of Marie Davino sang the National Anthem accapella on Friday morning and it was just beautiful.  If I'd had only known, I would have recorded it.  Such a talent!
Here is our NAP run.
Raven's NAP ribbons.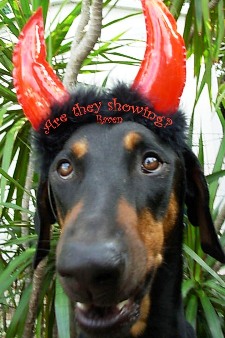 We moved up to open and the rest of our runs were NQ's, but they were FUN!  We have not worked on weave entries yet and I considered that an automatic fault going in, and was right.   We haven't practiced many 12-pole weaving exercises either. Weaves are a devil of an obstacle to get consistent.  The judge said she mentioned to her Novice group that they are allowed two refusals.  One handler then asked if she could refuse the weave poles.  I think many of us pray for weave pole miracles before we go in the ring.  I did.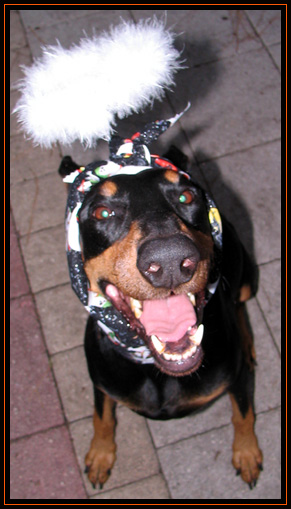 Onto my darling Doberangel.  The morning of our first day, I looked at her toenails and said, "Oh my gosh!  I meant to clip those last weekend.  Let me take a teeny bit off those front nails."  And I did.  That was fine.  But I decided to take a teeny bit off the back nails, and that's when I clipped one too much, and it took a lot of work to get the bleeding to stop.  Especially considering I couldn't find my Quick Stop.   When I did, I got the bleeding under control.  And on Leissl's first run, Nov JWW, the bleeding started again.  At her ex-pen, it was a mess and it went all over her blanket.  I got in there with the Quick Stop and had to pile it on to stop the flow.  Then I ran to the bathroom, which was a 1/4 mile round trip, and brought wet paper towels.  Then I scratched her from the rest of the trial.  Was that ever a big lesson learned.  No nail trims close to a trial.  I'm going to say no less than a week before.  That's my new rule.
Here's Leissl's Novice JWW run.
Raven's Open JWW run actually preceded her Novice Standard run in real time.  It was a fun course to run and both our first times ever in an Open course of any kind.
Here is the Raven-Open JWW-10-22-10-MOC run
After that we went home.  I had brought Dudley, too.  I need to train this little guy and start showing him.  The only drawback is that it is expensive enough showing two kids in agility.  Three would be a financial squeeze that may be too tight to fit.  He knows a lot of obstacles.  Dudley just doesn't know how to come when called when he's found something more interesting than me to distract him.  I will work on this.
Saturday was our next and last day at the 4-day trial.  Unfortunately, I needed one day to recuperate and do some weekly chores and am not ready for a 4-day trial yet, anyway.  The morning started out with an announcement that the 21-gun salute would not take place.  I didn't know one had been scheduled in the park, but I thought that was a good decision to cancel it.
Then it was onto Raven's Open JWW class.  That was a fun class.  The judge had two tunnels and it was just a really nice course.  I had a lot of fun running it with Raven.
Next was our first time in Open Standard.   We did get the weave poles after our second go at it.  I think we had one more fault in this class than was allowed for a leg.  Either way, it was another course that felt harder than it was while walking it.  It turned out to also be a fun course to run.  Here is that Open Standard run from Saturday, 10/23/10.
I wore my new Happy Howloween T-shirt.  It has a Dobie shape filled with candy corn.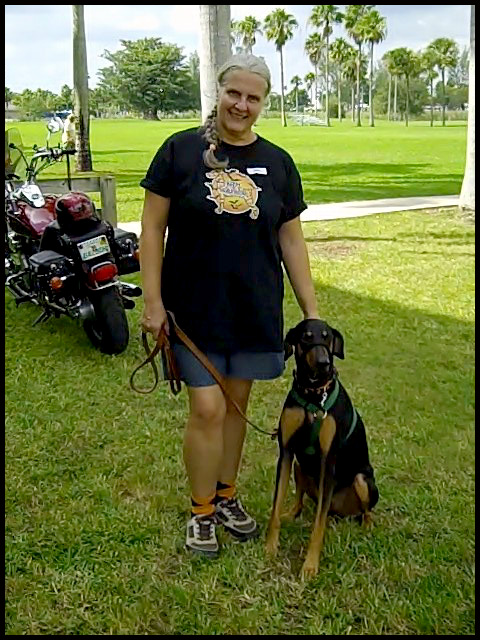 If you shop there, please give your support to the Florida Dobermann Pinscher Rescue Ring when you check out.  Helping Udders donates a certain percentage of the total check out amount to a  rescue of the buyer's choice.  Click the picture below to go to their site.
One conclusion of many I have come to is I must lose weight – again.  How many times I've done this in my lifetime, I've lost track.
Goals are good.
🙂